Olympic Champion Anna Meares Inspired delegates at the Sugar Milling Safety Conference 2018.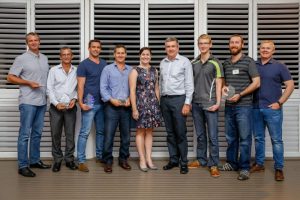 "We were delighted to welcome Anna Meares, a sporting hero and one of Australia's favourite Olympians, to our sugar milling industry's annual safety event" said David Pietsch, Chief Executive Officer at the Australian Sugar Milling Council (ASMC).
Anna Meares explained how confidence in her safety equipment, particularly her helmet and eye protection glasses, was central to her success. She shared her Gold Medal winning story in a presentation to delegates on the first afternoon of the Conference in Townsville.
"Success, failure, safety, injury, rehabilitation, mental health – all those things are crossed as a sportsperson, and all those things are crossed in many, many professions of life, and particularly in the sugar mill industry" added Ms Meares.
Ms Meares also presented trophies to the Sugar Milling Safety Award winners at the conference dinner.
Sugar Mills are complex and dynamic environments. Workplace safety is a core priority and the industry focus is to ensure vigilance around the multiple hazards and risks presented to workers and to the public.
"The conference celebrated safety innovation initiatives" added ASMC Safety Committee chair, Jason Hajinakitas.
"We also paused to reflect and acknowledge the need for more to be done to reduce injuries and rare, but tragic incidents" he added.
The conference heard from a range of speakers who will discuss leadership in safety; initiatives to raise community awareness of cane trains during the crush season; engineering innovations and industry safety inventions.
UVEX Safety Australia Brand Ambassador, Anna Meares is one of the most talented athletes in the world. She is a 4-time Olympian, a 2-time Olympic Champion (Gold and Silver – London 2012, Silver – Beijing 2008, and Gold and Bronze – Athens 2004, Bronze – Rio 2016), eleven time world champion across four different events and five time Commonwealth Games champion and she was the flag bearer for the Glasgow 2014 Australian Commonwealth Games team.