ASMC's Sugar Policy Insights (SPI) publication takes an in-depth look at policy issues of importance to the Australian sugar industry.
The October 2021 edition of the Australian Sugar Milling Council's Sugar
Policy Insights highlights:
• ASMC's Target 34 paper outlines the importance of achieving 34 million tonnes (T34) of consistent Queensland cane supply per annum, a potential pathway, and a number of commercial and public reform suggestions to get there. The paper is released for debate and discussion and as an input to the development of the 2040 Industry Roadmap. • 2021 Harvest challenges.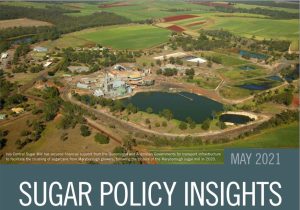 The May 2021 edition of the Australian Sugar Milling Council's Sugar Policy Insights highlights:
• The need for the sugar industry's revitalisation plan.
• The imperative for WTO reform and a return to rules-based trade.
• Queensland's sugar production outlook for the upcoming 2021 season.
The November 2020 edition makes the case for strengthening Good Quality Agricultural Land (GQAL) protections in State Planning Policy.
SPI also looks at the planning framework for the Queensland Government's proposed Renewable Energy Zones and potential implications for the sugar industry. And CEO, David Pietsch discusses the opportunities for sugar industry reform as the incoming State Government beings a four-year term.
The July 2020 edition explores the sugar industry's bioenergy potential and makes the case for a comprehensive review of water irrigation charges in Queensland. This sixth edition of SPI also looks at the EU-27 sugar sector in focus and ASMC CEO, David Pietsch explains how, in a post-COVID-19 world, there is an urgent need to both reduce the regulatory burden on the sugar industry and revitalise existing commercial arrangements.
The April 2020 fifth edition looks at the ways sugar manufacturers are
responding to the unprecedented challenge of COVD-19. Information provided by the Department of Foreign Affairs and Trade provides details of Australia's ongoing WTO dispute against the Indian government's sugar subsidies. April's SPI also looks at the US sugar program in focus.
Complete the form on the left to subcribe to Sugar Policy Insights
The December 2019 edition looked at the growing demand for affordable and reliable electricity and discusses how the sugar industry's potential contribution risks being overlooked.
The July 2019 third edition explained the findings of an industry survey on public sentiment and changing concerns about sugar.
The second, February 2019 edition asked 'Where next for Australian raw sugar?' and took an indepth look at the need for an industry-wide Revitalisation Strategy.
The first edition (Nov 2018) of Sugar Policy Insights discussed the case against subsidised sugar and India. The article highlighted information from an ASMC commissioned, in-depth analysis on global sugar prices (8 November 2018) see Green Pool Analysis on global sugar prices
Fill out the form on the left to subcribe and receive future editions