Two apprentices from Tully Sugar have been featured in a new digital campaign launched by the Australian Sugar Milling Council (ASMC) to highlight the training and apprenticeship opportunities available throughout regional Queensland and the sugar industry's significant economic and social contributions to the state.
The campaign, which coincides with the start of the annual sugarcane crushing season in Queensland, consists of video profiles of eight apprentices from Queensland sugar mills, including Tully Sugar, Wilmar Sugar's Victoria Mill (Ingham) and Pioneer Mill (Brandon), Mackay Sugar, and Isis Central Sugar (Bundaberg Region).
Fitter and turner Alex Miskin is a third-generation employee at Tully Sugar, who completed his apprenticeship in December 2022.
"My grandfather was one of the head draftsmen and my father is a carpenter and concreter here. I wanted to follow behind them and work in the sugar mill, and being able to do my apprenticeship at Tully Sugar gave me good grounds for higher learning," he said.
"I enjoyed my apprenticeship at Tully Sugar because there's a lot of varieties of machinery and equipment that you can work on, the people you get to meet and work with helping you out through the workplace, getting the knowledge and understanding you need.
"Being able to do my apprenticeship at Tully Sugar's has given me good grounds, given me higher learning, there's multiple opportunities to learn in which trade you want to follow, I would definitely recommend being an apprentice at Tully Sugar."
Ben Willis has also followed in his father and grandfather's footsteps to work at Tully Sugar. He is currently in the second year of his electrical apprenticeship and said the mill provides him with the opportunity to learn a wide variety of skills that he may not receive elsewhere.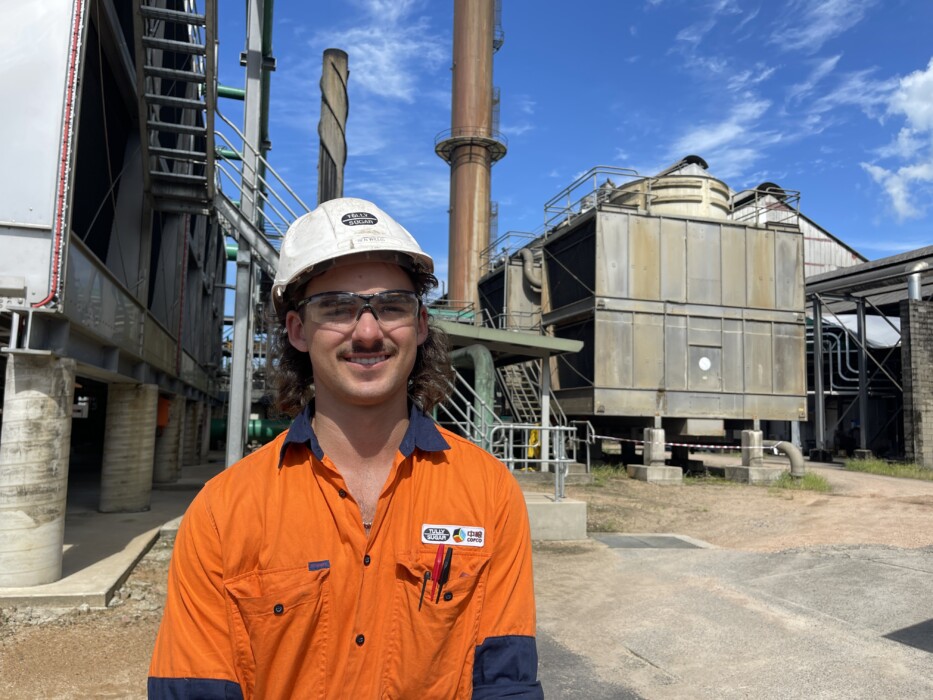 "Here we're open to so many things we can work on," he said.
"Being an electrician we have the opportunity to do welding, fitting, all sorts of stuff.
"I want to see out my apprenticeship here at Tully Sugar and keep going here."
ASMC Chief Executive Officer Rachele Sheard said the sugar industry is the lifeblood of many regional communities along the Queensland coastline, supporting over 19,000 jobs and injecting close to $3.8 billion directly and indirectly into the state economy.
"The sugar manufacturing sector is part of the economic fabric of regional Queensland communities and offers attractive and skilled career pathways," Ms Sheard said.
"This campaign puts a face to our apprentices and highlights the important role the factories play in providing training and career opportunities, financial security and a great lifestyle in regional Queensland.
The Sugar Milling Apprentice campaign will be promoted through social media, industry events and partnerships, and also profiles apprentices from
Ms Sheard said she hopes the campaign will help raise awareness of the important role the sugar manufacturing sector plays in Queensland's economy and inspire more young people to pursue apprenticeships in the industry.
"Having diversified sources of employment and investment has never been more important for our regional communities, who without the agriculture sector, would have been severely impacted during the pandemic.
"Not only do our sugar factories offer rewarding career pathways and financial security to regional Queenslanders and their communities locally, but we are a progressive, future-focused sector that will make a significant contribution to our state's renewable energy agenda over the next decade."
Minister for Skills and Training, Brendan O'Connor, endorsed the Sugar Milling Apprenticeship campaign, highlighting the importance of securing the next generation of skilled workers.
"The sugar industry is so important for Australia, and we need the next generation of skilled workers to support it into the future," he said.
"An apprenticeship in the sugar sector can lead to a rewarding, secure and well-paid job in a vital Australian industry."
-ENDS-
Media contact: Rachele Sheard, Chief Executive Officer, +61 408 777 898
Click here for a Pdf of this media release
To follow the campaign as it unfolds click here